should i start this by saying how glad i am of what friends i have left? i'm still sore about not hearing from Nisa the whole time i was in KL. my KL trip ended with me breaking 10 cigarette packs, one after the other, in a small office at the Singapore Customs Arrival Hall. got caught, fined and whatnot. how pleased my father looked when he walked into that office just now. i am not impress with the apprehending just by the way. i mean, they lack professionalism. they were going about like they were a bunch of eager teens working in some fast food joint, getting excited about finding a carton in my bag and debating amongst themselves who gets to go through my things. if they knew their stuff and hadn't been pussyfooting around i would have been out of there in record time. bloody retards!
i came back home and found Orwell's Down and Out in Paris and London lying on my pillow. the nanny is just too sweet. but what he and my brother did in my room while i was away was not sweet. by the looks of this, they held some sort of a fashion show in my room. feeling benar!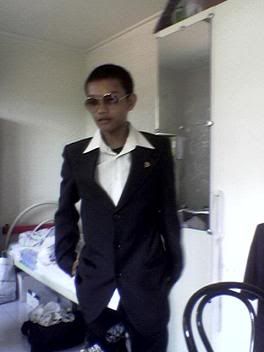 i would like to thank Farah for the Marlboros (which i had to break into half, all of it, in that godforsaken office), the Gauloises and the Absolut. you're a saviour. the beef noodles at Bukit Bintang was the bomb! thanks for being the designated driver as well coz i didn't think i'd last walking around for 4 days straight, balls. thank you! see, no nose hair at all. ahahahahahahahaha!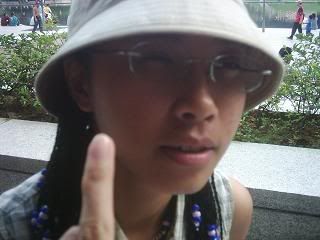 Naz would approve of what Shah bought while we were in KL. i think she might even be envious. try as i might i couldn't bring myself to shop a whole lot like Shah. i was crabby most of the time because i couldn't meet up with Nisa, getting myself all paranoid, thinking maybe she really doesn't wanna see me. so i ended up burning my money on expensive meals and Starbucks Tazo Iced Teas. but i have to admit that their Isetan Sale was crazy yo! i think about the only thing i found amazing in KL was its National Art Gallery. ok more to the point, the artists they featured. i've been to art galleries before but this was like the first time i really made myself study every art piece they showcased in that gallery. for work lar, people. not because i suddenly decided to be one of those cultured new age half-wits. won't boss be so pleased to hear this? this is to make up for my absence from last Sunday's meeting yar.