Be Good Like A Little Man(or girl) Should
yeah suckas! i got CDs today because of two sad facts.
sad fact #01: i won't be able to go Melbourne next year
sad fact #02: my iBook has died on me and i might be loosing all stored data
the only logical next step was to get my ass down to Gramaphone and cheer myself up (sulky shoegazing stuff isn't much of a help, thanks). so i did just that and got The Hives' Tyrannosaurus Hive and Supergrass' Best Of 94-04. but let's do a bit of eye candy instead of reviewing because i just got them today and it may take me a while to let them tracks sink in and make me think. and i want to do anything but think right now.

exhibit A:



so enter the primates. close friends of mine would tell you that i have an enduring weakness for primate looking dudes. and Supergrass singer, Gaz Coombes, is no exception. Ian Brown of The Stone Roses IS AN EXCEPTION, however. gawd, that one just proves the Darwin theory hands down, ballz. Gaz is hot and well i dig his voice. very versatile voice he's got and most of their songs are Sunday morning types anyway. happy songs make happy people. and since i needed to get happy, i got their Best Of. though i wouldn't mind getting their last album. heard it and thought it was good all the same. but let us not find out that his actual name's Gaston or something nerdy like that ok?

exhibit B: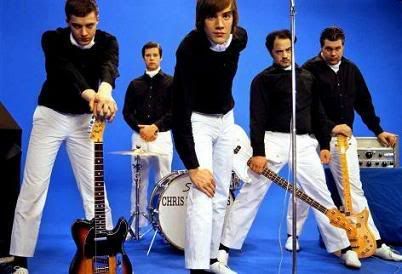 it pisses me off that i actually gave their Veni Vidi Vicious album a pass two years ago after listening to only one track. at that point of time i didn't know what Epitaph was doing signing them on to their label. so now i know. but now i'm wondering why this album's not Epitaph-produced. can someone tell me? The Hives puts back the 'S' to spiffily-dressed rockers and that's good coz i've said before, we're short of them round these parts. Pelle knew what he was doing when he called himself Howlin'. geez he shrieks and screeches on almost all the songs. lest we all forget what 'rocking' is all about, The Hives are here to remind us, kids. you know, i would say Can't Hardly Wait is my most favourite movie of all time if they had put this album on during the house party scenes. bloody hell i'd watch the movie over and over again just for those. but then they got Blink 182 to do it instead so whatever. ponder on this: Sweden might just be the next New York for you hipsters. i can't say Pelle's hot without having this image of him going down on Nick Valensi in my mind. yes, it's due to one slash fanfic that was written by some American chick. so i'm sick but then who really isn't?